Details -
English - a combination of Grammar, Composition, Literature, and Vocabulary.
Mathematics - One credit must consist of Algebra I, if possible, or an equivalent as most colleges require this. *In 2011, most colleges (and FL Bright Futures Scholarship) are going to want applicants to have completed four credits in Math. If the student believes that they may attend college or transfer to a public high school after 2011, we recommend four credits in Math. We will still only require 24 credits, so one of the elective credits will not be required.
Science - Two credits of Science should contain laboratory components.
Economics - This course should cover US and/or world economics. Personal Finance and Home Economics-type courses do not qualify.
Practical or Fine Arts - This may be one credit in Practical or Fine Arts or one-half credit in each. An example of Fine Art is music, drawing, art history, dance, speech, etc. Practical Art would consist of vocational studies, computer, business, etc.
Foreign Language - Foreign Language is not required to graduate; however, we encourage students to complete two credits of Foreign Language as many colleges require this for entry. In addition, if the student successfully completes two credits in Foreign Language during high school they often are not required to take it in college. This will save time and money later. Remember that it needs to be two credits in the same language.
Electives - Electives are courses that exceed the basic credit requirement in the various subject areas. These could be academic courses that exceed the requirement for graduation. An example would be if the student fulfilled the four English required credits and also completed American Literature. American Literature would be considered an elective. Other electives may be additional Fine or Practical Art, Physical Education, vocational studies, work experience, volunteer community service. etc.
Academic Scholars Plan for Graduation
Subject Credit Subject Credit
| | | | |
| --- | --- | --- | --- |
| Bible | 1.5 (max 1.5) | American Government | 0.50 (max 0.5) |
| English | 4.00 | Physical Education | 1.00 |
| Mathematics | 4.00 | Fine Art | 1.00 |
| Science | 3.00 | Health - Life Mgmt | 0.50 (max 0.5) |
| American History | 1.00 | World History | 1.00 |
| Economics | 0.50 (max 0.5) | Foreign Language | 2.00 |
| Electives | 4.00 | | |
Details -
English - English should consist of a combination of Grammar, if needed, Composition, Literature, Vocabulary, and Research.
Mathematics - The four required credits should consist of Algebra I and higher (Geometry, Algebra II, Trigonometry, Pre-Calculus, Calculus, Analytic Geometry, Advanced Math, etc.).
Science - Two of the three required credits should contain lab components.
Economics - This course should cover US and/or world economics. Personal Finance and Home Economics-type courses do not qualify.
Foreign Language - Two credits of Foreign Language is required. The two credits should be of the same language, such as two credits in Spanish and not one credit Spanish and one credit French.
Fine Art - Common Fine Art courses are Art History, Drawing, Painting, Dance, Piano, Speech, etc.
Additional Information
Volunteer Community Service - CCS will award up to one credit in Volunteer Community Service. In order to receive this credit the student must complete a minimum of 75 hours (for one-half credit) or maximum of 150 hours (for one credit) in non-paid, non-court ordered volunteer service. Hours should be logged on our Non-Traditional Credit Worksheet and submitted with Reporting. In addition, the supervisor's (not the parent's) contact information and signature must be included.
Recognition of Extra-Curricular Activities - CCS may award credit for participation in choir, drama, music, dance, sports, and other activities completed outside of the home. We also award credit for driving lessons resulting in the obtaining of a driver's license. For one-half credit the student should complete 60-75 hours. One credit would be 120-150 hours of participation. Hours are not counted for academic courses that follow a set curriculum. Hours are logged on our Non-Traditional Credit Worksheet and submitted with Reporting.
Florida High School Students Transferring to Public School - Private high school and/or middle school students who choose to transfer into a Florida public high school may be required to take Florida End-of-Course (EOC) Assessments. These assessments may be required prior to or after acceptance into the public school if the student is desiring credit recognition in Algebra I, Biology I, US History, Civics, and/or Geometry. Contact your local public school district assessment office for more information.
Example Schedule

Some parents have requested an example of a typical high school schedule. Based on the requirements of many public schools throughout the United States, the basic schedule is as follows (parents may follow a schedule to their suiting and are not required to follow the below listed example):
Ninth Grade -
Bible, Pre-Algebra or Algebra I, English I, Personal Fitness (one semester), Health/Life Management Skills (one semester), World Geography (Elective), and Physical Science.
Tenth Grade -
Bible (one semester), Algebra I or Geometry, English II, World History, Biology I, Physical Education (one semester), and Fine Art (Drawing, Painting, Dance, Music, etc.)
Eleventh Grade -
Geometry or Algebra II, English III, American History, Chemistry, Foreign Language, Elective, and Elective.
Twelfth Grade -
Algebra II or Advanced Math, English IV, Economics (one semester), American Government (one semester), Physics, Foreign Language, Elective, SAT/SAT Study (one semester).
PSAT
Several families have recently contacted us to ask which code to use for PSAT registration . If your student will be registering for this test, use the Homeschool Code for your state. They will mail the results to your home address and then you can forward them to CCS for your student's file. Do not use our SAT/ACT code as we are not participating in the testing process.
Florida Dual-Enrollment
In the summer of 2013, Florida Legislature implemented new laws regarding dual-enrollment. Florida colleges may now charge public and private schools a per credit hour fee. The fee per credit hour is $71.98 (subject to change).
Because of this fee, CCS will not be forming an Articulation Agreement with any college that requires private schools to pay for a student's dual-enrollment. Our tuition is too low for us to afford to do so. For more information email ccsadmin@cox.net.
Florida Virtual School
Florida residents who plan to enroll in Florida Virtual School should be aware of the upcoming enrollment dates.
For more information, visit the FLVS website at http://www.flvs.net.
NOTE: Effective Immediately- CCS will not approve AP Courses through FLVS unless the student has previously taken the AP exam or will take the AP exam at another/local school. Due to the distance between the school and students, it is not logistically feasible to provided the necessary testing.
Students interested in AP Courses through FLVS should register with their county as a homeschooler, enroll at a school in their area, or make arrangements to take the AP exam locally. Often private/public schools will permit local students to take the exam at their facility.
Note: CCS is located under the school district of Okaloosa. If an Okaloosa county resident, you will be put under Okaloosa Online. If you are not an Okaloosa county resident, be sure you are placed as a private school student with Crossroads in Okaloosa county directly through Florida Virtual School (not Okaloosa Online).
Under Student Profile:
Physical School Information -
Type of Student: US Student
State: Florida
Select by: District
District: Okaloosa
Physical School: Crossroads Christian School
Contact FLVS directly, if you are having difficulties in registering, at http://www.flvs.net/areas/contactus/Pages/default.aspx .
Though affiliated (meaning we have agreed to accept the grades earned there) with FLVS, Crossroads is not compensated by any means from FLVS. We simply offer this information for those who are interested.
Pending Graduates and Seniors
All seniors should receive from CCS a Curriculum Verification Letter (CVL) after their twelfth grade enrollment is complete and processed. The CVL will confirm that CCS has reviewed their student's twelfth grade curriculum list. It will indicate whether or not the student will be eligible for graduation based on the courses chosen for their senior year. If there are any discrepancies, such as lack of a required course or insufficient credits, CCS will alert the parent and offer suggestions on how to remedy the issue. Ultimately, it is the parents' responsibility to be aware of the graduation requirements and the credits that are necessary for their child's graduation. The CVL was created at the request of parents in order to alert the parent of any problems at the start of the school year. If the student's enrollment does not contain a curriculum list, CCS will notify the parent that one is needed as soon as possible so that we may review it.
High school students may request a High School Credit Statement once a year, after final reporting for the school year has been submitted. The High School Credit Statement will indicate the credits required for graduation, credits completed by the student thus far, and the number of credits remaining, in each subject area. To request a High School Credit Statement, mail the completed form to CCS after final reporting is complete.
Official High School Transcripts are mailed directly to requesting colleges and/or schools upon graduation or departure from CCS.
ACT/SAT Testing
CCS will need a copy of any and all ACT/SAT testing results earned by the student. These results are used on the child's official transcript as well as scholarship documents. For current ACT/SAT registration dates, visit the official websites for more information: ACT or SAT. If registering for a test, use our code number (also called a CEEB) of 100326.
School Colors/Mascot
Our diploma will arrive in a navy blue cover. The diploma is on parchment paper with a gold, metallic decorative trim. Included, as well, is a tassel, which is blue and gold with a gold, metallic date drop. We have no official mascot as students prefer to choose their own.
Class Rings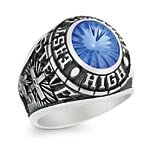 Class rings may be purchased through Wal-Mart, at the local store or online at Walmart.com. The school is Crossroads Christian School in Okaloosa County, Florida (Crestview, Florida). Some parents were able to obtain the class ring through Sam's Club stores as well.
Graduation Ceremony
As much as we would like to host a graduation ceremony it is not possible. Crossroads Christian School has students in all fifty states and thirteen countries overseas. We feel that it would be extremely difficult to organize an event that would benefit all our families without being a burden to them or our staff. To be honest, it would not be as special as an event in which families and friends were able to attend.
Graduation is a time for celebration. It should not be a time of formality for the sake of formality. We encourage families to put together their own events whether at church or with their local support group. An event such as that would be special and would make wonderful memories.
If a family prefers a more formal and elaborate graduation, we encourage families to attend the ceremony given by the state support group. In Florida, the FPEA hosts a beautiful ceremony during Memorial Day weekend at the end of May. More information may be obtained through their website at http://www.fpea.com.
Graduation Dates
In order to guarantee delivery of the diploma by the graduation date, we must know at least eight weeks in advance. We do not Express or Overnight mail diplomas. To request a diploma, use the Diploma Request Form.
CCS cannot certify a final transcript before the student's graduation date, even if all graduation requirements are completed. Keep this in mind when determining the student's date of graduation.
Transcripts
Every year several graduating seniors wait until the last possible minute to request their high school transcript for college admission. Since we must accommodate these last minute requests, those who submitted enrollment packages, reports, etc. must wait. This year we will not do that. If the senior plans to attend a college, register early and put in the request early. We will not process requests on a two-day notice. It is not our responsibility to "bail out" those who procrastinate. We will do our best, as we always have, but we will not penalize those who acted responsibly. They will come first.
We strongly recommend that seniors choose a college prior to graduation. Speak to the college counselor and know the dates of registration and when the transcript is needed. Request the transcript as soon as initial registration papers are filed (many colleges allow you to register prior to choosing classes). Last minute requests will be fulfilled only as time allows. It will be done on a first come basis even if this means the student cannot reserve a class desired. Be responsible.
The student's Social Security Number must be on file before transcripts are sent to any college. Most colleges will not process transcripts without SSNs. Having a SSN on file is a requirement of the school. Without it, we will be unable to submit transcripts to colleges or scholarship programs.
Crossroads Christian School will process up to four transcripts at no charge. After the initial four, the cost will be $5.00 per transcript, paid in advance.
Early transcript requests, which are requests made prior to graduation, will be processed if CCS has on file the students first semester grades. We cannot send a transcript to a college without first semester grades. Scholarship transcripts can be requested prior to first semester reporting, as these only contain ninth- eleventh grade credits; however, these do count toward the maximum of four no charge transcripts.
Prior to submitting a final transcript to a college, the student must report all grades to CCS and meet all graduation requirements. Any outstanding debt must also be paid.
To request a transcript from Crossroads, mail a completed Transcript Request Form.
Florida Seniors Only
Florida seniors who are interested in the Florida Bright Futures Scholarship program need to be aware of the requirements for qualification. If the senior has not or will not: take the ACT/SAT (with qualifying score), complete the required upper level Math courses (Alg. I, II, Trig., Geometry, Calculus, etc.), complete the required upper level Science courses (Biology, Chemistry, etc.),or fulfill the community service requirements, he/she should NOT complete the Florida Financial Aid Application as they will not qualify for Bright Futures.
Bright Futures Candidates (those who have or will meet the minimum requirements) must complete the Florida Financial Aid Application prior to graduation. This form is brief and should only take a few minutes to complete. Be sure to indicate that your child is a private school student. The county in which the school is located is Okaloosa. The form will ask for the student's GPA. This need not be exact as they want to know what the parent believes it is. CCS will report the exact GPA. Without this form being completed, Crossroads cannot submit any information to Bright Futures. This is the only document that the parent needs to complete. No other forms are required.
Remember that the Florida Financial Aid Application must be completed prior to graduation. If the student plans to use funds from the scholarship for classes this fall, they should be certain to apply (and graduate) by July 1. All required reporting should be submitted to CCS for final grades to be inputted into the Bright Future database no later than July 15. CCS strongly recommends that parents and students complete the form prior to the summer and have final reporting sent to CCS before July.

Once the above form is completed and submitted online, Crossroads may then begin to input data to the Bright Futures system. This is done periodically. The transcript submission may begin in mid-June and continue through the middle of July.
Bright Futures may send some families an award letter prior to graduation, and they may not. The money, if the requirements have been met, will be available for registration in July/August. Simply inform the college registrar that the student has qualified for Bright Futures. The registrar will confirm that information with Bright Futures directly.
In summary, the parent should:
Be aware of the requirements of the Bright Futures Scholarship.
Complete the Florida Financial Aid Application online.
Know all upcoming SAT/ACT test dates.
Report all final grades in a timely manner.